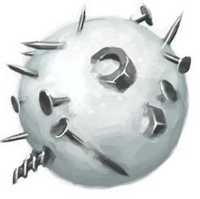 "Attack the snow-covered Black Hand Gang camps and collect Deadly Snowballs! They may look like ordinary snowballs, but you definitely don't want these used against you in a snowball fight-- trust us."
Winter Snowballs (also known as snowball, deadly snowball, or sb's) were items released to players for an event hosted by Kabam called Let it snow.
The event started Tuesday December 20th 2011 and ended on January 2nd 2012.
How to Acquire
Edit

To obtain a snowball requires the successful defeat of any Gangs. The higher level the gang, the better chance you have of receiving one.
At the end of the event, the person with the most snowballs collected on his/her server will receive a rusted mystery safe along with a 250k Resource Crate.
Prizes were also distributed for collecting 50 snowballs; any player who achieved this would receive a Rusted Mystery Safe.