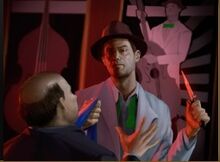 "If the Skinner's the rhythm of the Band then the Bassist is the heartbeat. Speaking of hearts, give the Bassist a target and he'll cut out their heart and show it to 'em."
The Bassist is a non-trainable offensive troop in The Godfather Five Families.
 Overview
Edit
The Bassists are the eighth non-trainable and the fourth Damage-Support-type troops in the game. They have the highest damage and the second health in The Band category. They were supposedly introduced as the main enemies for the Clean-Up Crew, alongside the other Band members, so their attack and health points are better than all Clean-Up Crew. They will give a damage bonus to The Frontman and The Skinner when deployed together
Advantages
Edit
Strong, does not die easily
Quick
Can give additional damage to The Frontman and The Skinner when deployed together
Disadvantages
Edit
High upkeep cost
Non-trainable, except in some certain events
Cannot be crafted in Doria Airport
Cannot be upgraded via boxing
Never goes to jail, except if a The Band Bail Order is active
Requirements
Edit
Train - Events Only
Edit
The rest will be added soon
Special Bonuses
Edit
Gives +50% Attack buff for other band troops when deployed together.
+50% damage vs. all Clean-Up Crew troops.
According to their stats, The Bassists can also be classed as Balance-type troops.
Community content is available under
CC-BY-SA
unless otherwise noted.