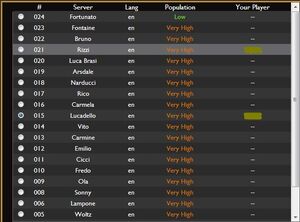 Servers are the different worlds within The Godfather Five Families. There are currently 28 servers. If you wish, you may play on multiple servers with different characters. If you wish to chnage servers, the only thing that can be transferred between servers are diamonds - if you start on another server, that new player will start from scratch
Current Servers
| | # | Server | Lang | Population | Your Player |
| --- | --- | --- | --- | --- | --- |
| | 182 | Coll | en | High | -- |
| | 178 | Livorsi | en | Medium | -- |
| | 177 | Terranova | en | Medium | -- |
| | 176 | Viserte | en | Medium | -- |
| | 175 | Orgen | en | Medium | -- |
| | 174 | Weiler | en | Low | -- |
| | 173 | Zelig | en | Low | -- |
| | 172 | Del Gracio | en | Medium | -- |
| | 171 | Fein | en | Medium | -- |
| | 170 | Becker | en | Medium | -- |
| | 169 | Rosenzweig | en | Low | -- |
| | 168 | Gurino | en | Low | -- |
| | 167 | Maione | en | Medium | -- |
| | 166 | Siegel | en | Medium | -- |
| | 164 | Shapiro | en | Low | -- |
| | 162 | Bailey | en | Low | -- |
| | 161 | Johnson | en | High | -- |
| | 160 | Piteo | en | Medium | -- |
| | 159 | St Clair | en | High | -- |
| | 151 | Kenney | fr | Low | -- |
| | 150 | Schroeder | es | Medium | -- |
| | 149 | Coglianese | it | Low | -- |
| | 137 | Giussepe | es | Medium | -- |
| | 136 | Valenti | it | Very High | -- |
| | 099 | Falcone | es | Very High | -- |
| | 068 | Philip | de | High | -- |
| | 041 | Apollonia | fr | High | -- |
| | 038 | Frederick | de | High | -- |
Server Merges
Due to many inactive players accumulating on most servers, Kabam has announced and carried through with two sets of merges. Thus, there currently are many fewer servers than there were originally, but each has larger numbers of active players.
Past Severs
Bonasera
Mancini
Rosato
Fanucci
Woltz
Lampone
There is no seventh server
Sonny
Ola
Fredo
Cicci
Emilio
Carmine
Vito
Lucadello
Carmela
Rico
Narducci
Arsdale
Luca Brasi
Rizzi
Bruno
Fontaine
Fortunato
Geraci
Rocco
Pitassi
Keinszig
Barone
Otillio
Clemenza
Florenza
Altobello
Licio
Russo
Aldo
Fredrick
Tessio
Amergio
Apollonia
Pentangeli
Geary
Gilday
Michael
Sollozzo
Momo
Tommy
Lamberto
Tournament Server
Lucchesi
Tramonti
Genco
Trivia
The server Emilio is named after Emilio Barzini.
The server Vito is named after Vito Corleone.
For some reason there isn't a seventh server.