Need some muscle? Invest in Greenwich to unlock the toughest Health Troops. Life's better in suburbs.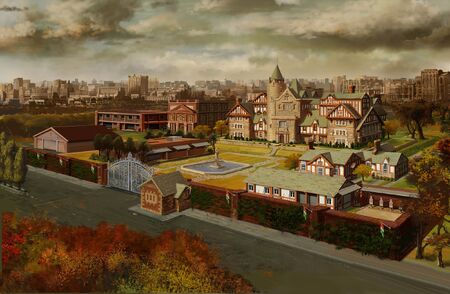 Greenwich Village or Greenwich or GV is the second Neighborhood available in The Godfather Five Families.
Greenwich Village is the second neighborhood introduced in the game. It has 1 Expansion with Exclusive Buildings located in it. This neighborhood has 3 exclusive troops, all classed as Health-type troops.
Acquiring
Edit
There are currently three ways to get Greenwich Village deed, they are as following: 
Greenwich Village has 4 Racket buildings. Like the First Neighborhood, Greenwich Village's rackets do not have the slot-machine-interface, which means no bonus cash or items will be granted from those rackets. Each racket requires a certain level of Mansion to be unlocked.
Those racket buildings include:
Exclusive Buildings
Edit
The Greenwich Village has its own Exclusive Buildings, all located in the East Expansion. Those buildings are:
Exclusive troops
Edit
Greenwich Village also offers three exclusive troops:
External Links
Edit
Community content is available under
CC-BY-SA
unless otherwise noted.