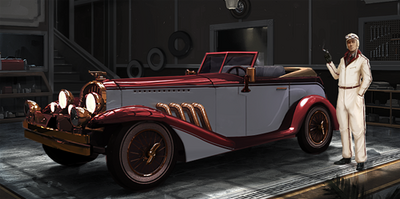 Car Parts are items that can be equipped on your Albern which give specific bonuses. Car Parts are very similar to Attire for the Cugino and Cugina, but for the Albern. There are six different equip-able items a player can acquire and add to their Albern:
Car Part Bonuses
Edit
Listed below are the Hot Rod parts. Each type of part from different sets may have a different bonus.
Grill: increase Attack
Body: increase Health
Tires: decrease cool-down
Hood Ornament: increase March size
Driver: increase Attack
Roof: increase Critical Hit
Upgrading Car Parts
Edit
Up to level 5, all parts can be upgraded without any requirements - the only cost is time. However, to upgrade for levels 6-10, a Bronze Toolbox is required; a Silver Toolbox is required for each upgrade levels 10-15, and a Gold Toolbox is required for each upgrade levels 15-20.
Each part may be destroyed as with the attire for Cugino and Cugina. For every part that is destroyed, a RP (respect point) bonus is given. Be wise when destroying car parts. If you have a better part to equip, then you may destroy the old one. Some players keep parts to earn the RP during tournaments with the Albern category. Each set brings different bonuses to parts. It may be useful to keep parts from different sets depending on your style of game play.
How to Acquire
Edit
Car Parts can be obtained from specific Mystery Boxes or as rewards for spending Diamonds. Parts in the mystery boxes below will come separately; equip every part of a specific set and the Albern will receive a Critical Hit bonus.
Sets can be found in the following Mystery Boxes:
Special Sets
Edit
References
Edit